Bull Terrier Kimonos
Bull Terrier Fight Gear is a BJJ Kimono company based out of Hamamatsu, Japan. Since opening up in 2002 they've been the leader in producing fashionable BJJ Gi's and have sponsored some very high level Jiu-jitsu practitioners.
Joao and Paulo Miyao, Roberto Satoshi, Rafael and Gui Mendes, Edwin Najimi and Ary Farias are just a few of the top BJJ competitors that are currently on the Bull Terrier Fight Gear roster.
Not only does Bull Terrier Fight Gear product Jiu-Jitsu uniforms, they also produce no gi grappling attire like rash guards and shorts, BJJ instructionals from top competitors, and apparel inspired by the BJJ Lifestyle.
Bull Terrier Fight Gear offers a wide range of designs to suit all of the varying tastes for BJJ gis. A few of their designs can be a bit much for some, but they also offer some basic kimono models as well that don't have a lot of bling to them. We are a Bull Terrier Gi reseller and are happy to accommodate your Bull Terrier kimono needs. Wether it's the Fujin Raijin, The Zebra Gi, or the Mushin 3 you really can't go wrong with our selection of Bull Terrier Gi's.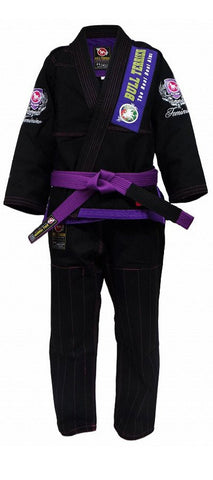 QUICK VIEW